I think this day was the climax of my trip, in many respects. I had a lot of fun, got to enjoy a new kind of music, and expand my food repertoir a bit. Not to mention bouncing around a jam-packed building with random people.
Saturday, December 27
6 AM, Having already plugged the hearing aids in so that I wouldn't miss the household's early rising, I am called to action by a light knock at the door. Time for their usual coffee and morning chat. I have fun with this, feeling the correct balance being restored to my "caffeine stream". It is no wonder that coffee is a multi-billion dollar industry in this country.
Feeling even more refreshed after a quick shower, I and they are relieved to discover that the deluge of rain (supposedly 7 inches) that had been forecast has really turned out to be more of a slightly unpleasant drip. I guess that we were going to give it a go anyway, given that we'd be leaving early and were bringing along the appropriate gear to protect said hearing aids, but definitely not having to deal with that kind of craziness is preferable.
Into the car for the fairly short road to a town northeast of Lafayette called Breaux Bridge. I've heard of this place, because former Carolina Panthers quarterback Jake Delhomme originated here. We are visiting not for sports though, but for their famed music, called Zydeco. According to the Wikipedia article I read, this musical genre is fairly distinct to Southwestern Louisiana, and was invented by African Americans and Creoles in the area. The article goes on to state that the first recorded instance of this term (Zydeco) was by a country western group in 1929 called the Zydeco Skillet Lickers, and they had a song called "It Ain't Gonna Rain No Mo". Ironic title for our day's likely outcome.
Our intended destination is a jumpin' place called Café des Amis, from which I generated my title for these posts. Not only the building but its surrounding area are about as full of people as can possibly be, and then some. We have to connect to a long line and hope that maybe we will get inside. As we wait, we make friendly chatter with everyone around us.
"Do you know them?" I often asked the woman of our group, referring to the people to whom she speaks.
"Nope," she replies: "I just started talking to them five minutes ago".
Yup, it's just that kind of place. Once inside, I even get to enjoy a little of that randomness myself when a woman pops out of the rocking masses and asks to dance with me. If I do this right and have chosen the correct photo, always an adventure for a blind man, you should see us standing there.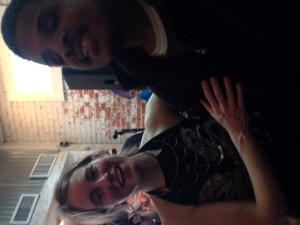 And now to something I do know for sure what I doing, I recorded an audio clip there as well. Great music and great musicians, Leroy Thomas and the Zydeco band. I hear they're always wildly popular.
Soon enough, a table opens up and we sit to have breakfast. You always have to eat fairly quickly, as there are people pressing in on those seats as soon as you've finished. I opt for a yummy sausage, egg, and cheese croissant and some grits, I think, along with a glass of orange juice. I also try a piece of beignet, which was delicious. It tastes like a funnel cake that has been stuffed with eggs and such.
Once we finish, we prepare to exit this particular café. On our way out though, we come across someone to whom I am introduced who also happens to write a blog that focuses pretty heavily on travel. I like that the URL is A Road of My Own, and the title is Traveling Solo. I ask my friendly host a couple of times if she had known of this before striking up that conversation, but as usual she hadn't known this individual at all. This is a definite, good coincidence.
We then venture over to the Joie de Vivre café, as I guess many coming from our former location do. Here, the guy in my group strikes up a jam session with some of the other musicians there, his instrument of choice being the piano. Here's a bit of that audio as well.
By about 1:30 PM, we decide to head home, where we mostly just chill for the rest of this day. Once both of them have drifted off for a nap, I sit on the little rocker and listen to sports for a good while. Then when the guy returns, we have a bit more of a conversation, before the woman returns and we settle in for some TV and good company.
For dinner we also have croissants, because she needs to get rid of them. She puts ham, cheese, and I guess mustard in them. Whatever the sauce inside, they are so good that I eat the two almost quickly enough to lose a couple of fingers. But then, what isn't good down there?
This makes up the bulk of Saturday's activities. I eventually retreat upstairs, turn on some jazz, and read more of the Louis Armstrong book. I think by this point, unfortunately, she is beginning to come down with something that may have been gotten from exposure to the swells of humanity, so we just lay low after this. More soon.